eJOURNAL STORY
About
The eJournal of Public Affairs is a peer-reviewed, multidisciplinary, open-access journal published by Missouri State University and affiliated with the American Democracy Project. By providing an academic, nationally refereed venue for such work, the eJournal aims to advance the status of public scholarship.
History
The idea for the eJournal of Public Affairs arose from a series of discussions in early 2010 between Rachelle Darabi, associate provost for student development and public affairs at Missouri State University, and representatives from the American Democracy Project (ADP).
These discussions were based on the notion that there has been a growing interest in establishing and promoting best practices in civic engagement on the part of universities, nonprofit organizations, and community partners across the country. The purpose of the eJournal, therefore, was to develop an online outlet for publishing research, disseminating information related to civic engagement and public affairs, and for connecting faculty, students, and community partners to like-minded professionals working in the civic engagement field.
Against the backdrop of MSU's statewide public affairs mission and the university's participation in ADP, the collaboration between MSU and the ADP was a perfect fit. At the ADP national meeting in 2010 a working group was established to begin planning for the new eJournal and at the 2011 meeting an expanded working group was established, which led to the establishment of an editorial board and a call for reviewers for the journal.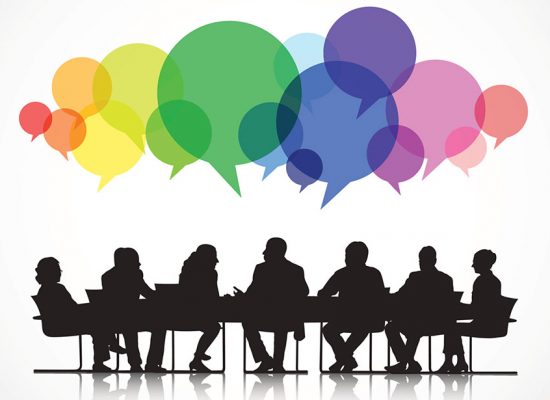 Logo
The art and design program at Missouri State University has a significant history with endeavors that have articulated the intention of Missouri State's mission in public affairs. This department has been active in projects on a local, national, and international level long before the university's adoption of the public affairs mission.
Having past experience with work-study positions with students from this program brought me back to Professor Maria Michalczyk to seek a collaborative project. It seemed appropriate to resort to the creative resources provided by these talented students, not only to tap into some innovative ideas but also to integrate them into a process for the eJournal of Public Affairs. Maria agreed to include a project as the first assignment in her fall 2011 DES-331 Advanced Typography class. The purpose of this assignment was for each student to develop a design concept for a logo to be used on the eJournal website and associated materials.
This project involved 18 students researching the field to construct professional examples and then develop three ideas for a word mark and symbol/icon. Students selected their preferences and presented various samples, placing them in context on a web page, letterhead, and other relevant applications. After they made a formal presentation to the associate provost of student development and public affairs, and eJournal staff, a decision was determined for current logo. This was an exciting process that provided 18 inspiring outcomes, with one yielding a great solution for the logo of the new eJournal of Public Affairs.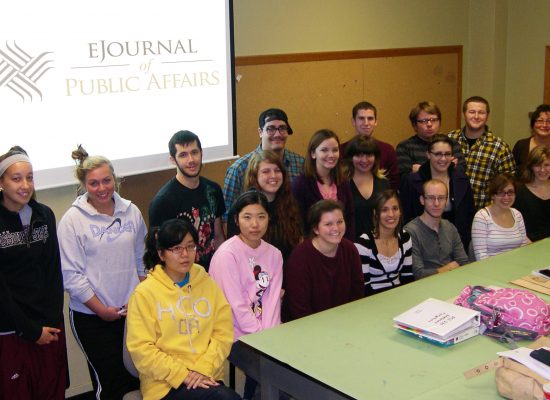 Website
In 2017, our team of web designers updated the eJournal website to the WordPress platform. Their goal was to improve the online experience for our readers. The project started out with a simple phone call between Andrew Lokie and Adam Lockwood, but it wasn't very long before it turned into a major project. Over the following six months, Andy, Adam, and Charles Whitaker worked tirelessly to ensure every aspect of the website was designed with readers in mind. The new website provides a user-friendly interface, includes social sharing options, and allows readers to easily access articles and videos.
PARTNERSHIPS